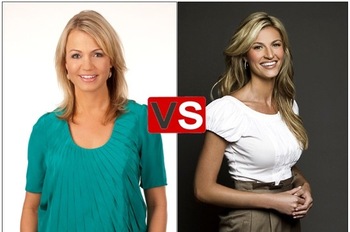 Listen Bob proclaimed her love and I also am a big Michelle Beadle fan so when she is out being Anti Erin Andrews (much like me) I fully support the cause. She basically called the whole peephole gate a conspiracy which I have done
forever ago
. Here's what she had to say:
I felt bad for her. She looked fabulous but it was such a violation. I mean, I've had moments in my apartment in New York when the blinds were up for one brief second and you think, "Ugh!" but that's nothing compared to what happened to her. Nothing.

I think things might have been handled differently, but she seems to be moving on. Sometimes these things turn out better for people.

If the implication was subtle in the above quote, Beadle was more straightforward in a phone conversation about Andrews's leap from college football's sideline to Oprah's couch to the stage of Dancing with the Stars (during which time ESPN all but put Erin Andrews in bubble-wrap). "Funny how that all worked out," Beadle says. I asked her about the potential backlash from Bristol regarding her quote — how extraordinarily sensitive the whole ordeal was and how even acknowledging that she watched the video is something ESPN won't much appreciate. "Fine," she said. "But who didn't watch that video?" One of the book's authors, James Miller, gives Beadle a lot of credit for keeping her admission on the record: "Lots of other folks would say to me, 'Off the record — I watched it.' So I give her credit for being honest."

Make no mistake: In Bristol there are clear sides being taken by coworkers and management — Team Beadle and Team Andrews. In fact, Andrews supporters have quietly groused about Beadle's relationship with ESPN's NHL analyst Matthew Barnaby, implying that Beadle is treated differently and that Erin would never get away with something like that. The biggest slap in the face, to some Erin supporters, was that ESPN trotted out Beadle yesterday morning, along with Scott Van Pelt, for the network's up-fronts — this despite her relationship with Barnaby, who's now facing assault charges after an incident at the home of his soon-to-be-ex-wife Christine. But ESPN's upper management has chosen its new fair-haired girl, it seems. For now, it's Beadle. Beadle also maintains that her relationship with Barnaby was done "by the book," in accordance with ESPN's corporate policy about disclosing interoffice romances. Rumors have surfaced, however, that the Barnaby-Beadle relationship started getting serious at a time when Barnaby was still married. Beadle denies those rumors and maintains there was nothing illicit about their relationship."
Deadspin broke this because they are the 1st for everything TMZish for sports, but I'm so glad Beadle is against Andrews. I have never been an Andrews fan and even though all guys faun over her overrated ass I could see right through her bullshit. This obvious peephole thing was just a way for her to launch her career, before that there was no Oprah, no dancing with the stars no anything.