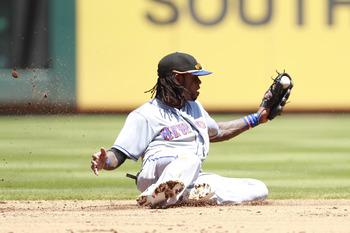 I'm reading it would take Jose Inglesis, Felix Doubront, Josh Reddick and Ryan Lavarnway (Sox catcher of the future) for a deal involving Jose Reyes. None of those guys I'm sold on. And even if we can trade for him in hopes that we re sign him in the offseason you do it.
The pessimists would say, he'd leave in the offseason to free agency, we would have to pay another 100+ million dollar deal, he's injury prone, we would have 3 leadoff hitters (Ellsbury and Crawford would be the other 2) blah, blah, blah, if there is a chance you could get arguably the best SS in the league you jump at it.
I don't care if all of those guys turn into future all-stars, winning a title this year is worth it 100 percent. I know this could be a pipe dream, but if this is what it takes takes, Theo push the button.