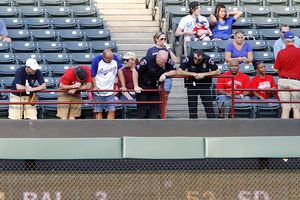 The fan had a ball tossed to him after Josh Hamilton caught a fly ball and flipped over the 1st row railing falling to his death.
This is awful figuring the guy was there with his son. It will be interesting to see if the MLB will do anything about not allowing players throw the ball into the stands anymore, which was initially implemented to make the game fan friendly. Also, this has to be pretty awful for Josh Hamilton also, and isn't good to have happen to figuring hes a recovering addict.
It is the second fatal fall at a MLB ballpark this season. In May, a 27-year-old man died after he fell about 20 feet and struck his head on concrete during a Colorado Rockies game.