So some of you might have noticed that there's some soccer tournament in South Africa that's about to kick off. I know I have. I imagine at this point none of you will be surprised that I watch the World Cup almost obsessively considering I watch, well, just about everything else, but I'm going to make the point clear again.
I watch the World Cup obsessively.
I love watching international sporting events and this one tops it all. I have spent a number of sleep-shortened nights to watch early matches from the 2002 Cup in Japan and South Korea, I still talk about being contacted in shock by several fans at once after Zinedine Zidane's head butt and red card against Marco Materazzi in the 2006 Final, I fondly recall hearing my entire science hallway erupt in 2002 when we weren't allowed to watch the U.S.-Poland match, but it had been announced South Korea was beating Portugal and easing the Yanks' way to the knockout stage, and I still owe Jessica Sher thanks for calling me to keep me updated when France eliminated Brazil in Germany four years ago.
Thanks, Jess.
Yeah, I love the World Cup. It is always fun, it never gets old and it never will get old.
This World Cup is particularly fascinating given that it is the first to be on the African continent, with South Africa holding the honors of hosting the tournament. As the Bafana Bafana are about to kick off in the opener against Mexico, the Cup has been marred by
a horrible tragedy for national hero Nelson Mandela
on what should be his proudest moment as South Africa's savior. Despite this of course, the games will go on, and a massive upset of the Mexicans might be of small consolation for Mandela's family, but the joy of his nation united may not be.
Such an event may be unlikely, but no host nation has ever lost its opening match so time will tell. In the meantime, FIFA has made it clear that players must be on their best behavior. As
this phenomenal article from the New York Times explains
, referees have been schooled not just in the rules of the game, but also in swear words from more than a dozen languages. Let's hope hot heads like Wayne Rooney are heading the warnings.
So I'm sure you're all wondering who it is that I will be rooting for, and I will list in decending order whom I want to win for your reference:
1. The United States (Duh.)
2. England
3. Germany
4. Any African nation that can make a deep run provided they don't stand in the U.S.'s way.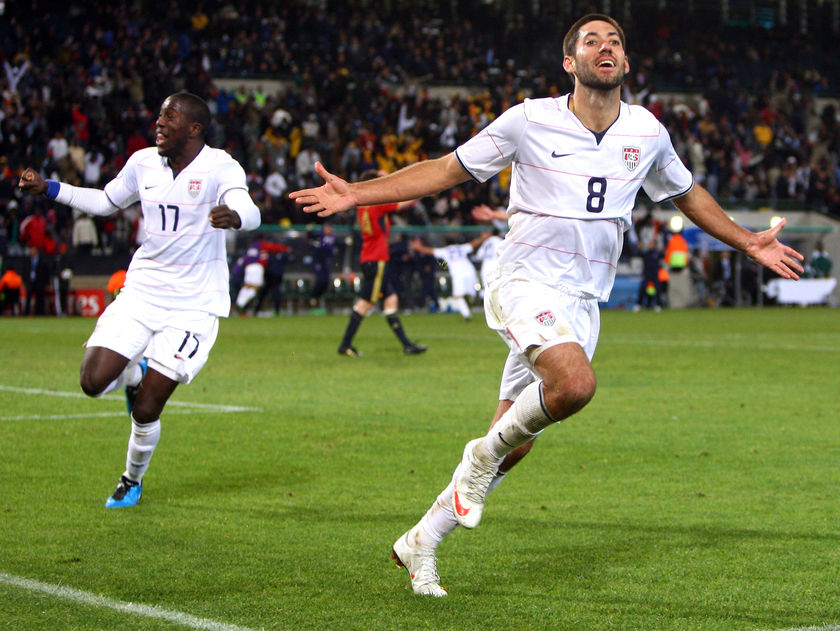 Do I think the U.S. has a shot? Well, not really, but so long as they get to the knockout stages, and their group is set up well enough that they should, anything can happen for Landon Donovan, Jozy Altidore, Clint Dempsey and company. Of course, the U.S. doesn't kick off until 2:30 tomorrow when they take on the mother nation of England. Obviously, I am extremely excited to see the U.S. in the grandest tournament in all of sports again, but I'm even more excited to watch it tomorrow at
a public gathering in Dupont Circle
in Washington, D.C.
What might be most interesting about that is the circle will have to be cleared rather quickly post-match for the annual
Capital Pride Parade
, but that isn't such a concern for me as I will be booking it with friends to Baltimore for tomorrow night's Mets-Orioles game in
Camden Yards
. That's Team No. 33 in case you're counting.
And if you're not, it's probably because you're busy watching the World Cup. That's alright. I'm pretty busy watching it, too. In fact, I'm going to tie this up right now, so I can do just that. Enjoy. And if you're rooting for a particular country,
make sure you're in the right place
.
Oh, and if you're looking for a prediction, I don't know this sport nearly well enough to make one, but let's go with Spain anyway. It's kind of odd they don't have one yet, isn't it?