I remember in the fall of 2006 when I attended a Northwestern football game and talked to an alum who had attended Game 7 of the 2006 NLCS. I asked him what the stadium was like after
Endy Chavez's historic catch
and he responded to me that dozens of people were hugging him and jumping on top of him, and he couldn't possibly have cared less about it. The euphoria of that moment was simply too strong for him to mind being violated.
I had never quite had a moment like that with complete strangers until Wednesday, when Bert and I saw
Landon Donovan save U.S. Soccer
in the 91st minute against Algeria to put the Americans through to the knockout stages of the 2010 FIFA World Cup. We were watching at a sports bar in Park Slope, Brooklyn called
200 Fifth
, which was not overcrowded, but a decent, and involved crowd nonetheless. By the time
Donovan, arguably the greatest American player ever, poked Clint Dempsey's rebound into the net
, it was almost entirely full, and while I had begun to accept that the flurry of unconverted opportunities were about to leave us on the outside looking in, in that moment the bar erupted.
Strangers jumped on top of me and hugged me. I had no idea who they were. And I did not care.
This was one of those great moments that make sports worth watching, and while I did think it was a bit odd that one bar patron rubbed my tummy while I was standing on top of my chair screaming with my hands on my head, the excitement of Donovan's score was enough to get me to forget about being personally violated for a few seconds. As someone who follows the U.S. soccer team and has on more than one occasion had to defend his refusal to pick a European nation to support because the Yanks had no chance, this was a moment of joy and redemption when all seemed nearly lost. In short, it was what makes sports great, and when you take a minute to sit back and look at the tournament, that's not even the best part.
The future could be better.
The United States will face Ghana in the round of 16, and while we very nearly got a gift matchup of Australia, it also bears warning that we could have gotten Germany. Excited as I might be to have a shot at
vengeance for the 2002 quarterfinals
, when
Oliver Kahn
(and Torsten Frings' left arm...) single-handedly
kept the U.S. from a date with the semifinals
, Germany is a stiff opponent. Of course, I want to reiterate one thing. I am not looking past Ghana.
I AM NOT LOOKING PAST GHANA.
However, it is only natural to see how the bracket lays and what the path to a World Cup Final might have. At the point of the World Cup's knockout stages there is no such thing as an easy match. Each will be tight and contested and nervewracking for the participants and its supporters. However, if you're searching for as smooth or lucky a draw as you could ask for, the U.S. might have it. If you don't believe me or you just haven't seen the draw yet,
maybe you should
.
If the U.S. is fortunate enough to get past Ghana, they face the winner of Uruguay and South Korea for a spot in the final four of the tournament. Ghana won't be easy and neither will Uruguay or South Korea, but the first two potential matchups are bereft of the traditional powers. Brazil, Portugal, Chile or Spain can't possibly face the U.S. until the semifinals (and Spain may not make the knockout stages at all if the Swiss have their say), while England, Germany, Mexico and Argentina are all on the other side of the bracket, clear of the United States unless they some how wound up in the Final on July 11th, and at that point all bets are off.
Oh and apparently
we won't have to worry about the Italians
this time around.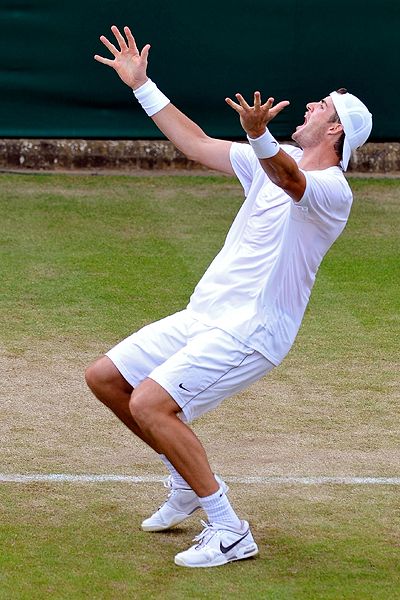 So no, I'm not really ready to crown the U.S. for a deep run at the World's greatest sporting event, but as far as roads can go, this is clearly the best one we could have hoped for, particularly since either the U.S., Ghana, South Korea or Uruguay is guaranteed a berth in the semifinals and the Yanks
happen to be the highest ranked
of that group according to FIFA. Of course, rankings mean bupkis at this point considering that two top ten teams have already punched their tickets home with a third still possibly boarding its return flight.
But before any of that even begins to be considered, Donovan, Jozy Altidore, Tim Howard and crew still have handle the Black Stars, whom Bert feels a bizarrely conflicted yearning to root for. Evidently the volunteering he did in Ghana meant a lot to him. Or something. Regardless, I know whom I will be rooting for, and though I will be watching from my office, come Saturday afternoon I will be glued to the TV as I live and die with the red, white and blue for 90-plus minutes.
And since
he's finally done playing tennis
, maybe American John Isner will get to watch, too.