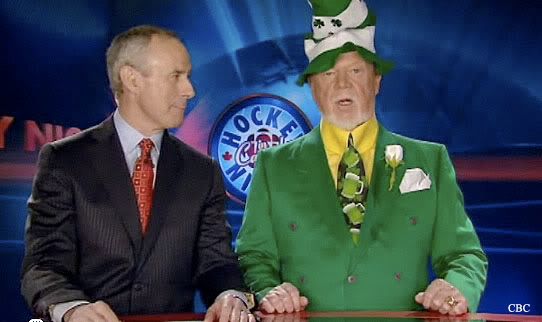 Alright, so that
legendary showdown I was predicting
between the Canadians and Russians
didn't quite exactly come to pass
. Much to my surprise, the outrageously talented Russians decided they simply didn't feel like playing, while the Canadians finally realized they're an almost unfair combination of skill and strength that can't be trifled with.
Somewhere,
Don Cherry is smiling
.
Not only did the Canadians smack the Russians around but good, they may have finally found the groove we've all been waiting for them to display. As I've said all along, this is easily the most talented team in the tournament, but for the opening round Canada appeared to struggled at times and took a while to get its offense rolling against lesser teams like Norway or Germany.
Last night Canada was an efficient machine that would steamroll any team it came across. Reports of its demise were outrageously premature, and if the Canadians keep rolling, I can't see how they don't win gold on Sunday. As I now have a feeling we're in for a USA-Canada rematch on Sunday, this doesn't sit too well with me.
And speaking of the USA, they advanced to a semifinal match against Finland with another gritty performance, and while it may at first seem as though the U.S. underperformed against the Swiss, whose roster does not compare talent-wise with any other team in the quarterfinals, the one wild card is always a hot goaltender, and as I said yesterday, Jonas Hiller is good enough to steal a game. And with the exception of a bizarre and lucky turn of the clock at the end of the second period, Hiller came damn close. Hiller was a wall all day, racking up 42 saves, and were it not for Zach Parise's flukey goal early in the third period, the game might have been headed towards a shootout.
As for Parise, he scored his first and second goals of the tournament, which, considering that he's arguably the most dynamic player on the U.S. team, took long enough. Not to say that he didn't play well in the preliminary rounds; Parise assisted on multiple crucial goals and created plays with his frenetic pace and speed, but it was surprising that he hadn't yet lit the lamp. The U.S. could use a few more tallies against the Finns on Friday, who will have a sturdy Miikka Kiprusoff in net to go with what is a fairly potent offense. I still like the chances of the U.S. to out-muscle and wear down Finland over 60 minutes, but I may be viewing that through patriotic lenses.
And I know it. I guess we'll see how it turns out in 27 hours.
Before I sign off for today, I wanted to get back to a few days ago when I brought up my
not so recent fascination with Curling
. My friend Christian, after reading the post sent me a photo of him and his friends after a jaunt to the ice sheet in college to see what it's all about. I his words, "It's really fun and it DOES tire you out," so I'm not surprised on either account and am even more eager to give it a shot once I actually, you know, have free time or people to do with it. Always the catch there. The more I watch it the more convinced I am that it really is an intense physical work out -- so all you people who claim curlers aren't athletes can stuff it. Moreover, as another reader pointed out to me, Curling can apparently
be a more socially conscious sport
than most while doing the important job of educating teenagers.
I told you all the game was replete with euphemisms.