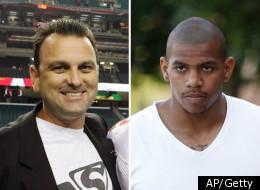 Doesn't this just seem perfect?
A scumbag player and a scumbag agent team up. I mean if anyone could spin Terrelle Pryor in a positive light it would be Drew Rosenhaus (The guy is money). There are many people who think Pryor can't be a pro qb or be successful, but why can't he. He had a ton of success at Ohio State, is tall, has a rocket arm, and like many other young qb's can work on his decision making. To be honest, I would rather take a shot on Pryor than Tyrod Taylor.
I don't know when this guy is going to be drafted in the supplemental draft, but I think he could be a hell of a lot more successful than a Tarvaris Jackson. I like the move by Terrelle and will root for him.