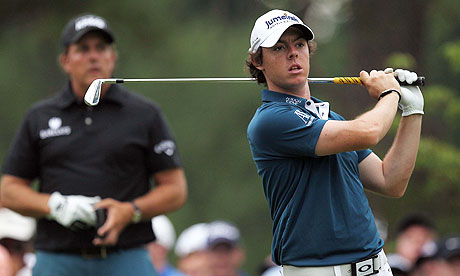 Wow! Rory McIlroy is murdering Congressional CC. At one point he was -13, but finished his round at -11 when he double-bogeyed the 18th after a wayward tee shot and a terrible decision to try and go at the flag and dropping one in the drink. Oh, by the way that was his first bogey of the tournament!
The double bogey on 18 is a little worrisome, because it shows some poor judgement. I think his caddy really let him down at the Master's by not pulling him aside and telling him not to be so aggressive when things were beginning to get unraveled. And I think he definitely needed to tell Rory not to go at the flag on 18 today. Oh well. He's still got an 8 stroke lead.
The good news for the rest of the field? Most of them have over 2 rounds of golf remaining to get into position to challenge McIlroy.
Jason Day and Bubba Watson are two guys to keep an eye on this afternoon. They'll tee off shortly after 2 pm. Matt Kuchar is about to tee off and he's currently at +1. He's another guy that I could see making a move. Unfortunately, I don't see any story line playing out where anyone gets within less than 4 strokes of McIlroy today. As the sun continues to shine this afternoon, those greens will firm up making it really hard to go after these pin locations, even on some of the birdie holes.
This could be the beginning of a new era in golf.