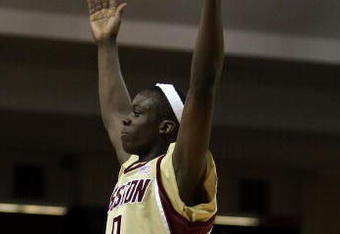 ESPN and SI are saying that the Celtics are targeting Boston College shooting guard Reggie Jackson. This is what ESPN says:
"Ironically, in a small way, Boston College's best scorer has a better upside as a defender in the NBA. On offense, quickness is the ultimate weapon, as it allows for the ability to get by people or draw a foul call, thanks to the more stringent way NBA games are called now when a player's progress is impeded by a defender.

But on defense, that weapon is length (not height). I don't focus on wingspan as much as sleeve length, and Jackson appears to have the kind of arms that will require a tailor for all his shirts and suits going forward. Length makes a difference as an on-ball defender, allowing for more space to be provided the ball handler while still being able to influence a dribble, pass or shot. This gives the defender more "reward" plays with less "risk," which is always a good formula. Long arms will help Jackson deny his man better, as well as make plays as a helper. He has not shown any great ability to be a chaos creator while at BC, though that could easily be due to strategic decisions made by the staff, or because Jackson needed to save some energy for his offense. But until he commits to being a difference-maker on defense, he's just a "potential" guy on that side of the court."
So let me get this straight hes a combo guard that can play right away, can score in bunches and has a high ceiling in defense. Somebody throw this kid a Celtics jersey right now! I know a lot of people will think the Celtics are dumb for not drafting a big man, but I think it's smarter to get a scorer late in the first round rather than a big with "potential" like Jeremy Tyler, that kid from Ohio State or Lucas Nicoragua. This kid will be great and could plug in there for Ray Allen after next year. I don't know what this would spell for Avery Bradley but whatever, I'm sure we can trade him for some value or polish him off to be a better Tony Allen.